Deeply cleanse between teeth and below the gingival margin, utilizes a combination of water pressure and pulsations cleans deep between teeth and below the gum line where regular flossing can't reach.
What you get:

In-depth oral cleaning
Long-lasting battery
Whiter & Healthier Smile
An extra-large 300ml water reservoir allows you to thoroughly clean the scales and dental plaque. Equipped with 4 interchangeable nozzles for use by different members of the family.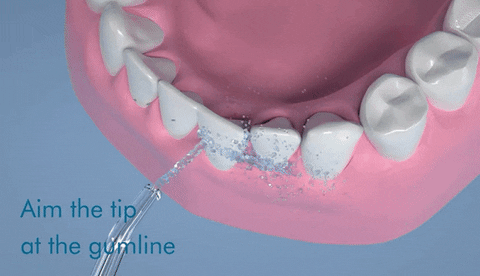 Deep Cleanse Every Corner
Oral Water Flosser uses a motor and pump to produce a stream of pressurized, pulsating water to flow from a reservoir and exit through a narrow mouthpiece.
In addition to cleaning your teeth thoroughly, the water flosser also gently massages and cares for your gums. A water flow will comfortably stimulate and massage the areas of concern on your gum.
3 Modes to Meet Various Oral Care Needs
Three water jet pressure settings make flossing and cleaning between teeth and along the gum line gentle and effective.
Normal Mode – A powerful and pulsating high-pressure water jet shoots directly between the teeth to dislodge larger food particle. (1,600 pulses per minute)
Soft Mode – Provides gentle pressure to clean sensitive teeth and stimulate and massage sensitive gums for better dental care. (1,200 pulses per minute)
Pulse Mode – Pulsating streams of water mixed with air shoot intermittently to clean periodontal pockets and stimulate the gums. (1,400 pulses per minute)
Why choose Oral Water Flosser
Studies have found that brushing teeth is not enough for us to protect our oral health. Regular use of Flosser helps to remove plaque and food stuck between teeth to prevent tooth holes, tooth decay and even tooth loss.
Oral Water Flosser adopts advanced technology and excellent design to meet your needs for a variety of uses. It truly solves mouth problems and allows you to show confident and charming smiles.
Easy Cleaning
With upgraded unique pulsation technique, Oral water flosser can offer high pressure water pulse 1400-1800 times/min, 30-110PSI strong water pressure to remove 99.99% food residue hidden deep, massage the gum effectively and promoting blood circulation. Also helpful for bleeding gums, bad breath, benefitful for brace and bridge care!
IPX7 Waterproof
IPX7 waterproof design is adopted for both internal and external of the machine to provide dual protection, which prevents leakage and allows the water flosser to be used safely for shower in the bathroom.
USB Rechargable
Rechargeable oral irrigator with powerful 2500Mah lithium battery is able to last for 10-15 days once fully charged.The USB interface charging is applicable to a power bank, phone charger and PC.etc.
3 Modes and 4 Nozzles
Select NORMAL for powerful removal of food particles, SOFT for gentle to clean sensitive teeth, PULSE for massaging gum and rinsing.