Powerful 3-layer filtration that provides the cleanest air and built-in sensor that displays the air quality in real-time with color-coded results.
Healthy Air Provider
USB Powered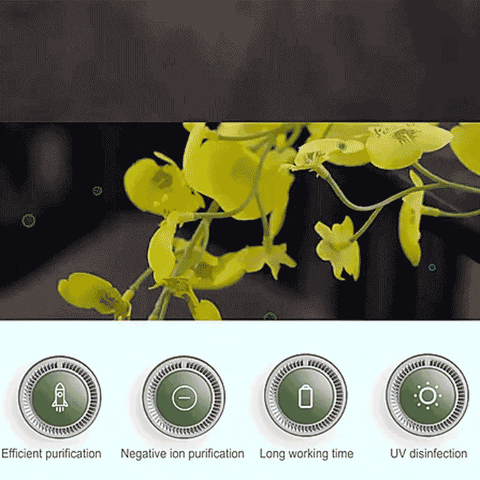 Create a Happy & Clean Home
Auto Fan Speed Adjustment

Choose from 3 fan speeds or turn on the Auto mode for the air purifier to switch the fan speed in line with the current air quality.
Filter Replacement Reminder

The indicator on the control panel will flash to remind you to replace the filter, or you can replace the filter depending on the air quality in your area.
12-Hour Timer

Select the desired operating time from 2, 4, 8 and 12 hours for the air purifier to automatically turn off after your specified duration – great for when you are away or sleeping.
Technology That Enhances Life
 3-Stage Filter Structure
The air purifiers filter is comprised of a pre-filter, H13 True HEPA filter and active carbon to trap 99.97% or more of particles as fine as 0.3 microns.
Healthy Air Provider
Air purifiers for home capture pet dander, pollen, allergens, smoke, odors, and dust from the air in order to create a healthy environment for you and your family.
Smart Auto Mode
Equipped with a sensor for real-time air quality monitoring, the air purifiers for room automatically switches fan speed based on the air quality; air purifiers for bedroom allows you to choose a suitable speed among low, medium and high.
High-Efficiency Air Cleaning
The CADR value of this HEPA air purifier is 250 m³/h, which means it can circulate air in a 270 sq. ft. room 5 times per hour, 324 sq. ft. room 4 times; with air inlets on all 4 sides of the air cleaner, you can put the large room air purifier anywhere in your home for 360-degree air circulation.
Color-Coded Air Quality Results
The built-in sensor displays the air quality in real-time with color-coded results; 4 different colors mean different levels of air quality, namely, BLUE-excellent, GREEN-good, ORANGE-moderate, RED-poor.