The complete sewing solution for any situation. With this small handy sewing device, you can be always prepared for unexpected holes. Our small sewing machine is not only beginner-friendly but is also an invaluable tool when you need quick repairs and alterations.
Resolve Your Sewing Problems in a Matter of Seconds
Keen craftspeople and sewers will know how useful a handheld sewing machine can be for those times when you need to fix a stitch in an awkward position.
Our handy sewing machine is designed to reach the places you can't, and makes quick hem fixes so much easier!
Designed to be used for all manner of situations, handheld sewing machines will even help you hem curtains without taking them down from the rail.
It is also great if you want a handy tool to repair clothes and don't have space for a full-size sewing machine.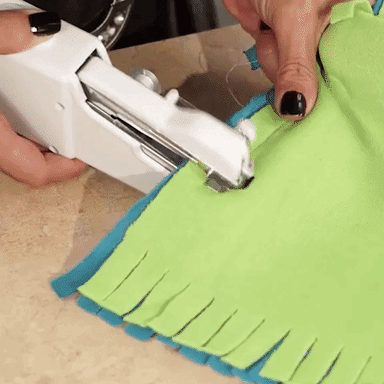 Lightweight And Convenient To Use
Our cordless sewing machine is suitable for fabric, clothing, silk, jeans, leather, denim, wool, hem pants, drapes, holes rips, toy crafts and etc.
Our electric sewing machine is lightweight and easy to carry, which is very suitable for on-site maintenance and emergency sewing during home or travel and is the best small sewing machine to use for sewing all types of projects.
Anyone working with curtains, interior decoration or sewing her or his own clothes will enjoy using this time-saving compact sewing machine. It can outperform any conventional desktop sewing machine and will make your stitching experience flawless.