This Full HD wireless backup camera is the perfect addition to your RV, truck, or trailer. With its high-resolution camera and wireless connectivity, you can easily see what's behind you and navigate with confidence. The camera provides a clear and crisp image, even in low-light conditions, and the wireless connection eliminates the need for complex wiring and installation. Simply attach the camera to the back of your vehicle and use the included monitor to see what's behind you. The camera is weather-resistant and durable, making it suitable for use in all types of weather conditions. Don't let blind spots and poor visibility affect your driving safety – upgrade to this top-quality wireless backup camera today.
Our waterproof wireless backup camera will assist you in overcoming the eyesight barrier, improving safety when operating your RV, 5th wheel, trailer, or camper, and making reversing and parking easier.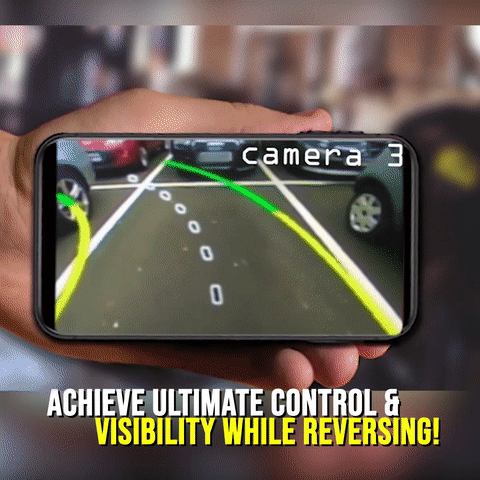 Features
An upgraded manual sensor to detect every motion

6 infrared LEDs to take pictures and videos in low light conditions, including in the dark

Ability to link and synchronize the device with your smartphones hence doesn't need Wi-Fi to work and works within a 50 feet distance

Internal magnet to attach to any metal surface, auto-rotatable

The device set includes a 360o recirculating bracket, allowing you to adjust the angle arbitrarily.

Supports micro SD card of 8-128GB: You can insert a micro SD card to automatically record all day. No need for Wi-Fi.

Ability to playback the footage on your mobile or computer anytime

Supports multiple users & devices: One device can support multiple users' access to the live view. The mobile app can also be linked to multiple devices at the same time. Simply switch between different devices for a different view.
How does Our Wireless Backup Camera work?
The hot spot feature on the wireless backup camera for RVs allows you to connect it to your phone (Android or Apple iPhone) without Wi-Fi! With the hot spot, which operates within a range of 50 feet (outdoors) and 70150 feet, video and sound will stay in sync (indoors)
360-degree rotating bracket with built-in magnet
The wireless backup camera is designed with a 360° rotating bracket that enables you to arbitrarily change the angle. It can be mounted on any metal surface.
360° rotating bracket and built-in magnet for the wireless backup camera
A built-in magnet allows the wireless backup camera to be fastened to any metal surface. With the camera set's 150° wide-angle lens and 360° rotating bracket, you may change the angle however you choose.
Wireless Backup Camera – Loop Video Recording
Insert a micro SD card in the camera to automatically record all day without Wi-Fi. You can playback the footage on your mobile or computer! Wireless Trailer backup camera supports micro SD cards with 8-128GB.
Waterproof Wireless Backup Camera – Motion Detection & Infrared Night Vision
With the upgraded intelligent motion detection function, you can now set the sensor sensitivity manually. Once motion is detected, a push notification will be sent to your device with snapshot images. The device is equipped with 6 infrared LEDs, which automatically turn on in low light conditions, ensuring video clarity even in the dark.
How To Use Our Wireless Backup Camera
The wireless backup Camera Device includes a hotspot feature, which allows you to link the wireless backup camera to your Android or iPhone without the internet.
You just have to install our app and attach the camera to your trailer.
Scan the QR codon on the screen and follow the prompts to download the app.

Open the Aand PP, and click "+" to add a new camera.

Select the phone to connect directly to the device.

Turn on the camera, and long press the MODE button.

Open the phone WIFI settings

Connect to DGK, DGB, DGC, DGO, DBG named WIFI network.

After successful connection, return to APP and go back to the home page to open the camera.
Note: This is the simple version of the tutorial, you can check the manual we provide for more detailed tutorials and other installation methods.
 
Specifications
Color: Black

Resolution: 720P

Connectivity: Wireless ( iPhone And Android )

Memory Card Type: Support Micro SD cards up to 128GB

Built-in Magnet & 360 Rotating Bracket
Package Inclusion/s: