We all admire how lovely hummingbirds are! That is why we created this extremely affordable and functional feeder to add more joy and happiness to our garden, backyard, or patio. Help our feathered friends outside by making them feel at ease as they cross your property.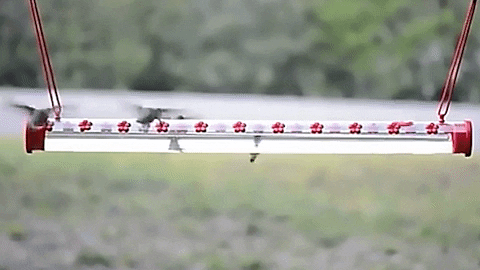 Are You a Hummingbird Lover?
This hummingbird feeder is a uniquely designed feeder in vibrant red color that is sure to attract your favorite feathered friends. To hummingbirds, a bright red feeder is like a blinking light in the dark.
The perch provides the perfect position for birds to comfortably feed at any of the twenty ports and is extremely easy for them to flock to your backyard and stay for a longer time!
We suggest hanging your feeders under a tree with speckled shade and sunlight so that they will still catch birds' attention.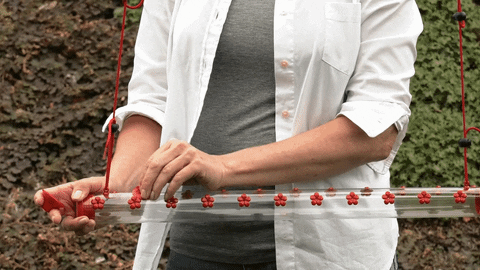 Environmental Friendly & Safe For Birds
Reservoirs and bases are made of eco-friendly and environmentally safe plastic. The wide mouth ensures effortless cleaning and filling.
Popular Hummingbird Food Recipe
Feeder Nectar is an easy recipe. Boil a mixture of 1 part sugar, 4 parts water and let it cool. Fill your feeder and you're ready to go. Do NOT add red food coloring to the mix, as it is harmful to hummingbirds.
Keep them at a Safe Distance
It's important to keep your feeders at an elevation above the reach of cats and other predators. The placement should be far enough away from windows in order to avoid the risk of collisions.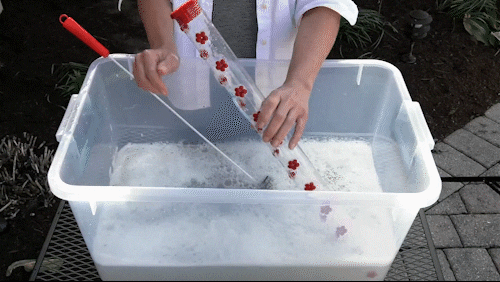 Simple and Easy To Clean
If your yard has limited options for shade, your Hummingbird feeder might end up in the sun. It can't always be helped, but don't sweat it.
As long as it's kept clean, a feeder in direct sunlight is just as effective as one in the shade. It's recommended that you clean your feeder regularly, but this goes double for a feeder in the sun.
The schedule is once a week for shaded feeders and once every 3 days for sunlit feeders. Discard old nectar and wash the feeder with soap and warm water. Rinse, dry, refill and re-hang.